Lightning boy audio recording studio
The home of vacuum tube tone
---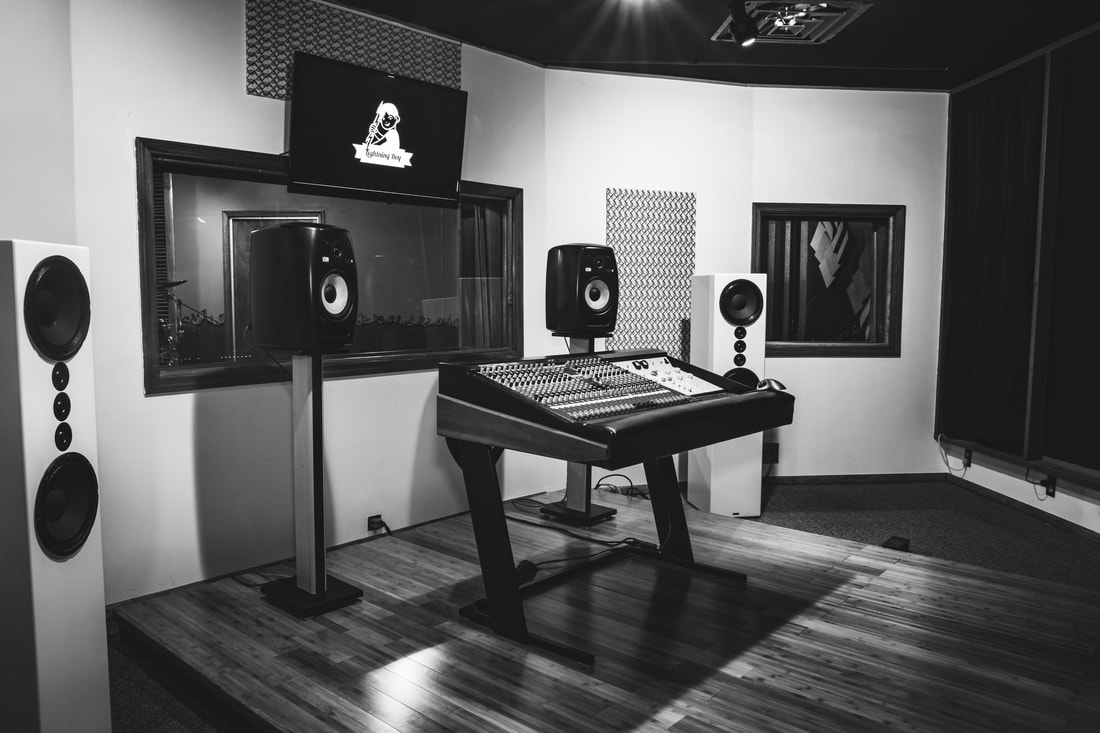 Great sound comes out of here!
Owned by
Lightning Boy Audio
, LBA Recording Studio is a professional Production, Recording, Mixing, and Mastering studio focused on delivering high quality audio with analog character. Located in the greater Buffalo, New York area, LBA Recording Studio is situated about 40 minutes South of the city, in the quiet rural village of North Collins. Practically everything here from the gear to the walls was designed and hand-crafted by its founder, Mike Congilosi II. Its all been created with a goal in mind... to make big, warm, high-fidelity records. Warm analog vacuum tube tone, super low noise, and a huge stereo image are the highlights of LBA's sound.
While LBA Recording Studio primarily provides music production services, the studio also serves as a real-world test bed for

Lightning Boy Audio

products and prototypes. The gear is designed to operate with lower noise than most equipment on the market, while providing rich tube tone and a wider than average frequency response. This combination helps define the studio's distinct sound. If you're looking for a sound that has a distinctly different and tasteful tone, LBA Recording Studio might just have what you're after.
My experience at LBA Recording Studio was everything I had hoped for and then some. Mike Congilosi II served as the producer and engineer for my 10-song project. As a result, the finished tracks met and exceeded my vision. What makes LBA Recording Studio special is that it excels equally in three key areas - equipment, skill and talent. The gear at LBA, much of which has been created and refined by Mike himself, is top-notch. Everything needed to capture the music at the highest audio level possible is right on hand. And the gear is in the hands of a true professional. Mike has mad skills as a recording engineer. He knows the science inside and out. It's amazing to watch him work - his highly-trained ears pickup on the smallest nuances in a track. But what impresses me the most is Mike's musical vision. As a producer, he brings ideas that really fit the song and enhance it. He challenges you in a positive way and the music is all the better as a result. In short, creating music at LBA Recording Studio is an awesome experience.
Doug Osborne-Coy (Osborne-Coy)

Working with Mike 'Lightning' Congilosi at LBA Recording Studio was an absolute pleasure. Mike really helped me get the project sounding like I envisioned while giving me great advice and ideas along the way. The studio is very organized and we were able to get a lot done during sessions without feeling rushed or settling for cutting corners on the goal of the project. I would recommend anyone who is serious about making quality recordings visit LBA Recording Studio and talk to Mike. Mike is friendly and hardworking and like his name, works at lightning speed behind the console. His openness and expertise in the field was a refreshing and awesome experience and I think we made a really cool record that I'm super proud of.
Brief history of Owner, Mike Congilosi II:
​
Mike's experience with recording dates back to his childhood, as does his interest in audio electronics. His teenage years ended with a MacGyver-style DIY bedroom studio that would set him on his way. A great inner passion was unleashed when Mike decided to attend College for music production in 2000. He obtained an Associates degree from Villa Maria College in Buffalo, NY, although that was only a stepping stone required for his admittance to SUNY Purchase College. It was at Purchase he would work with his first paying clients, many rising Artists and a member of the Wu-Tang Clan/Kill Army, 9th Prince. His musical knowledge and skill blossomed under the guidance of grammy nominated Skatelites producer, Joe Ferry. During his years at Purchase, Mike began to unlock his recording and production skills and finally received a Master of Music degree in January 2007. LBA Recording Studio was opened in 2010 (originally named Gallery Acoustics). At this location Mike has recorded hundreds of Artists from the studio's own back yard to as far away as NYC, Albany, Rochester, and from throughout Pennsylvania.

"It is my goal to bring every Artist I work with to the next step in their musical journey."

Brief history of engineer, Jon Clarke

Jon is a graduate of the recording program at SUNY Fredonia, where he studied under the watchful eye of long-time Flaming Lips producer, Dave Fridmann. Jon has been writing, recording, and releasing his own music for years and is well accustomed to the language of the guitar and the workings of the studio. Currently, Jon is a recording engineer with LBA Recording Studio. He also works as an electronics engineer in LBA's lab, building FX pedals for LBA.